It's that time of year again, when Chef Jason Lynch makes his Bacon Jam. This is serious stuff. We're talking quality local ingredients, lip-licking flavour, salty, sweet, put it on a cracker, put it in a salad, or just eat it off of a spoon because Bacon Jam is proof that life is good.
Jason personally cures and smokes premium local pork sourced from Oulton's farm in Windsor, Nova Scotia. The result is a bacon so delicious we'd be fine if he stopped there, but by adding brown sugar, molasses and red wine vinegar, the perfect bacon now becomes the most sweet and savoury jam.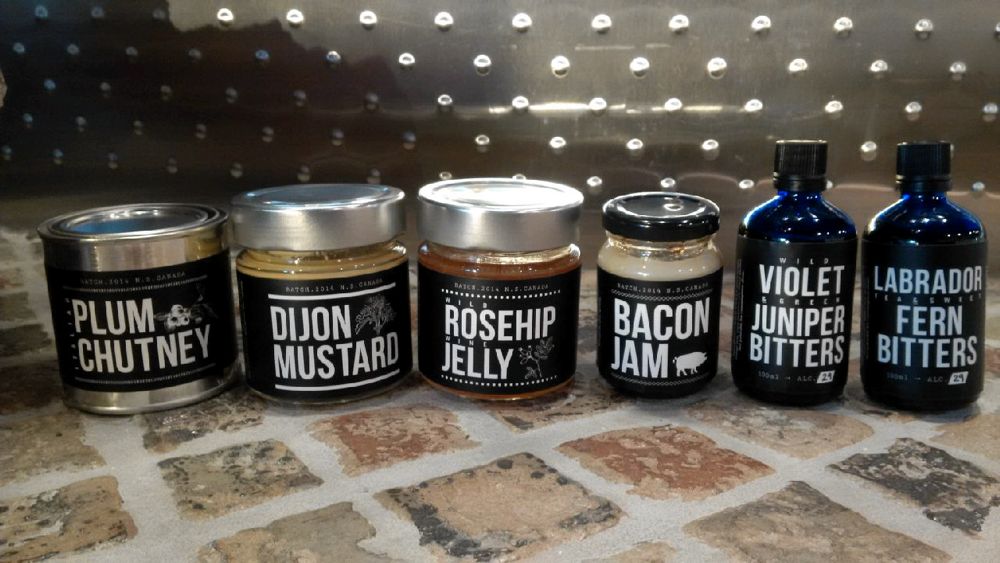 This year's Bacon Jam companions are sure to please as well: Rose Hip Jelly, Italian Plum Chutney, Wild Violet and Green Juniper Bitters, Labrador Tea and Sweet Fern Bitters, and Dijon Mustard — all with local ingredients, and just in time for holiday entertaining.
If this is not enough delicious for you, may we suggest pairing Bacon Jam with recipes from Jason's cookbook, Straight from the Line: Recipes and Reflections from a Chef at Work. The Citrus Crusted Scallops from page 23 with the Bacon Jam? Yes, absolutely. Swiss Chard with Chillies and Bacon from page 83? Replace bacon with Bacon Jam and...hello!
Last year's batch sold out in a day, so this year we are handling all orders online or in person at the Grand Pré Wine Shop. No orders by phone this year, and online is much easier anyway. Just order online and choose your pickup location (Grand Pré Wine Shop or Halifax Historic Farmers' Market). Don't think too much about this, the next chance will be in November 2015. You can't wait an entire year. Nobody could, so don't feel bad, just be ready.
Bacon Jam will be available on November 26th at 9am AST in the Grand Pré Online Shop. and at 11am AST at the Wine Shop at Grand Pré.
Get in on the #JasonsBaconJam conversation. Catch the story, watch for live updates, and get the inside scoop on the release by following Chef Jason Lynch on Twitter and Facebook.